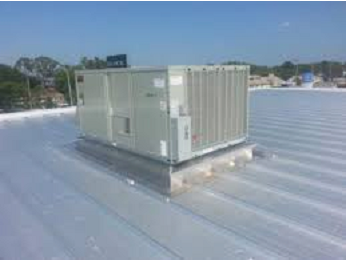 When a roof curb for HVAC is included with your order, flanges are customized to fit perfectly as possible and designed to carry certain point loads required for equipment placement. All curbs feature continuous seam welds. Side flanges nest with the roof panel, thus resulting in a completely watertight seal. Metal roof curbs come standard with 1″ foil-faced rigid insulation (R6.5). High R-values are available upon request. Our packages ship with all accessories for a complete curb install.
Full-penetration/continuous welds

Two-curb system for heavy rooftop equipment

Mill or custom color finish

Partitioned top for HVAC as specified

Backer-channel, sealants, and fasteners for install

CAD drawings supplied with the order

Structural calculations available upon request (fee)

Aluminum curbs carry a 20-Year Warranty
SunLite Strip® Daylighting System
The SunLite Strip® daylighting system adds natural daylight, energy savings, and occupant comfort to any Butler® building featuring the MR-24® roof system, including new or retrofit applications. Butler has partnered with Kingspan Light + Air to offer this innovative daylighting metal roof accessory.
Reduces electrical lighting consumption and lighting costs up to 70 percent when integrated with control systems design

Installs in 1/3 the time of curb-mounted systems, allowing for faster move-in

Design can reduce roof penetrations by 30 percent, reducing field labor and protecting the weathertight integrity of the MR-24 roof system

Prismatic acrylic domed technology adds up to three times the amount of light earlier and later in the day versus translucent panels

Can provide a return on investment (ROI) in an average of three to five years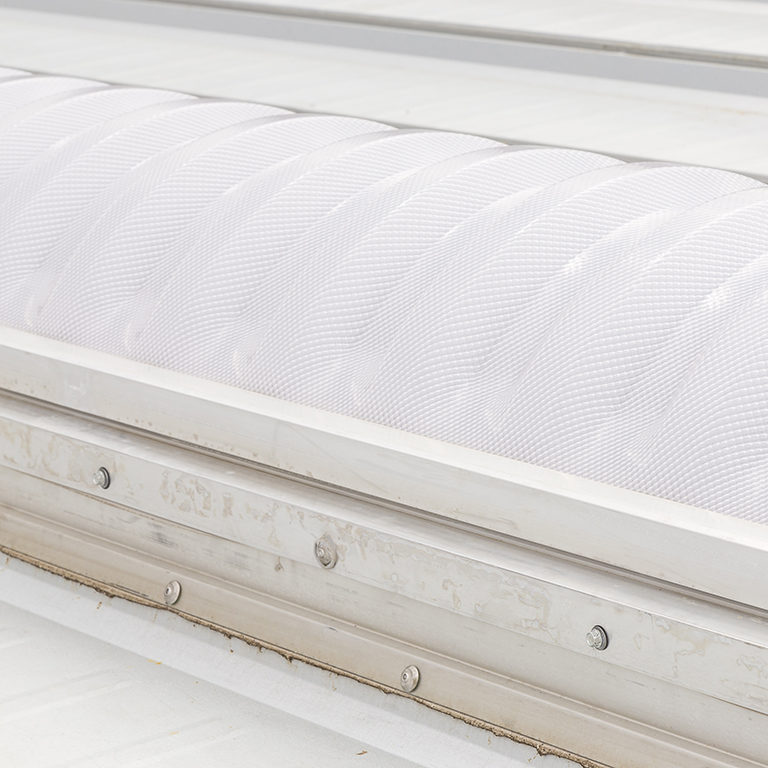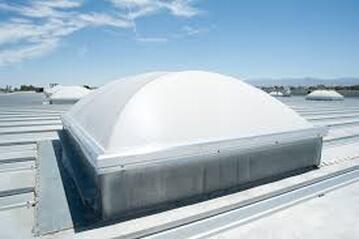 Skylights are designed and constructed to fit your specific Butler Roof Profile. Our standard product offering includes both single and double-walled skylights for insulation. All skylight orders can be made any size required for your project. OHSA Compliant Fall Protection can be added as well.
Glazing options include prismatic acrylic, heat stop acrylic, and polycarbonate

AAMA rating for air / water / pressure

Miami-Dade NOA (Florida Building Approved)

NFRC Performance Certification

Poured and Debridged frame eliminates condensation
SteelGuard security bars can be added to any curb or smoke ventilator order and will be sized to ensure compatibility. Heavy-duty solid steel bars are welded to the L-Bracket frame for ease of installation. Three options are provided, each representing an additional level of strength in design.
SB-1: single direction rounds welded to the short dimension and painted white.

SB-2: same rounds on the short side with rounds spanning the long dimension at 16" OC.

SB-3: same rounds on the short side with rounds spanning the long dimension at 5" OC.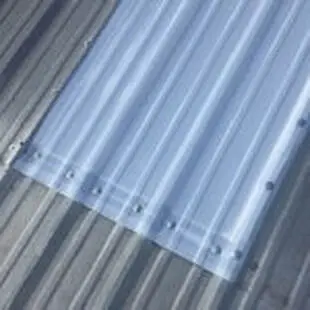 LIGHT TRANSMITTING ROOF PANELS
Light Transmitting Panels are used with Butler Rib II metal roofs. These panels are made of high-strength fiberglass, white in color, and are form-fitting of the Butler Rib profile to allow natural light into your new building. It is recommended that all Light Transmitting Panels should have safety screens or other acceptable safety controls that prevent fall-through that can be added underneath or above.
Reduces electrical lighting consumption and lighting costs

Can be ordered with UV Protection
Flat Light Transmitting Panel (LTP) Skylights are often treated as a premium metal roof accessory. These skylights are a fall hazard when safeguards are not present. Light Transmitting Panel Fall Screens are designed to fit any Standing Seam or Panel Rib. This fall protection system provides protection against a fall accident through flat skylights. All screens are tested to meet OSHA Skylight Fall Protection Standards.
Visual cue alerts personnel to UNSAFE LOCATIONS

Includes all hardware for installation

Backed by a 10-year warranty

Must be installed according to manufacturer's recommendation for fall prevention and warranty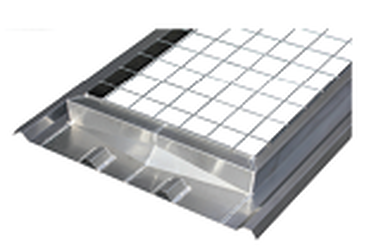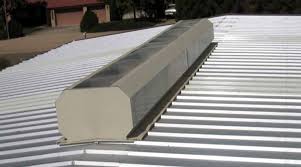 Allow optimum airflow and premium comfort inside your Butler Building with continuous ridge vents. Ridge ventilators easily move fresh air through buildings of all sizes, including heavy industrial operations. Meanwhile, they remove hot, stale air — and air contaminated by manufacturing or production processes. And the benefits last year-round. During warm summer months, our gravity ridge ventilators release heat naturally. When winter temperatures strike, proper ventilation helps control condensation and other moisture issues. Unventilated condensation leads to rust, deteriorated insulation, and product damage.
Your continuous ridge vent is available in a wide range of throat sizes — and with or without dampers to control airflow. Pull chains are the standard means for controlling dampers. Multiple damper operations are available for two or more units. Standard ridge ventilators are shipped with a 1:12 end cap and can be field modified to accommodate up to 6:12 roof pitch. Ventilators can be custom ordered to accommodate roof pitches greater than 6:12.
10' Lengths with Heavy Duty Crating

Bird Screen & Wide Flanges

Single or Continuous Applications
This versatile roof vent is designed for economical, low-volume air movement and is perfect for ventilating warehouses, light industrial buildings, attics, lofts, and other buildings requiring gravity or relief ventilation. It can be installed both on the ridge and as well as the flat part of your new Butler roof. Control the volume of gravity air movement with the adjustable damper, which is also effective in controlling water intrusion from wind-driven rain and backdraft conditions.
Available in 12", 20" and 24" diameter throat sizes

Bird Screen & Wide Flanges

Includes dampening if required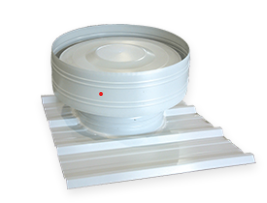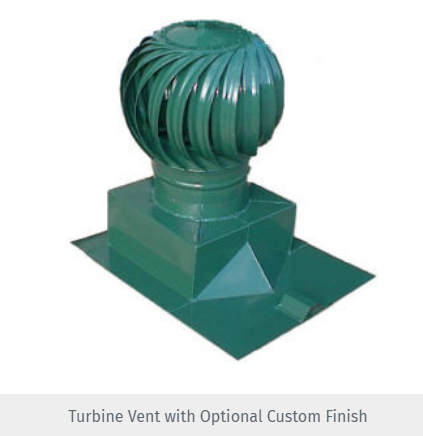 Powered by wind, turbine ventilators put Mother Nature to work for optimum — and eco-friendly — airflow. With their compact design and pleasing look, these vents are an efficient and effective means of ventilation. It can be installed both on the ridge and as well as the flat part of your new Butler roof. Control the volume of gravity air movement with the adjustable damper, which is also effective in controlling water intrusion from wind-driven rain and backdraft conditions.
Available in 12", 20" and 24" diameter throat sizes

Bird Screen & Wide Flanges

Includes dampening if required
If your Butler Building requires plumbing ventilation, we have the best solution to stop leaks quickly using our pipe flashing options.
Pipe Flash is a flexible unit that fits pipes from 1/4" to 7."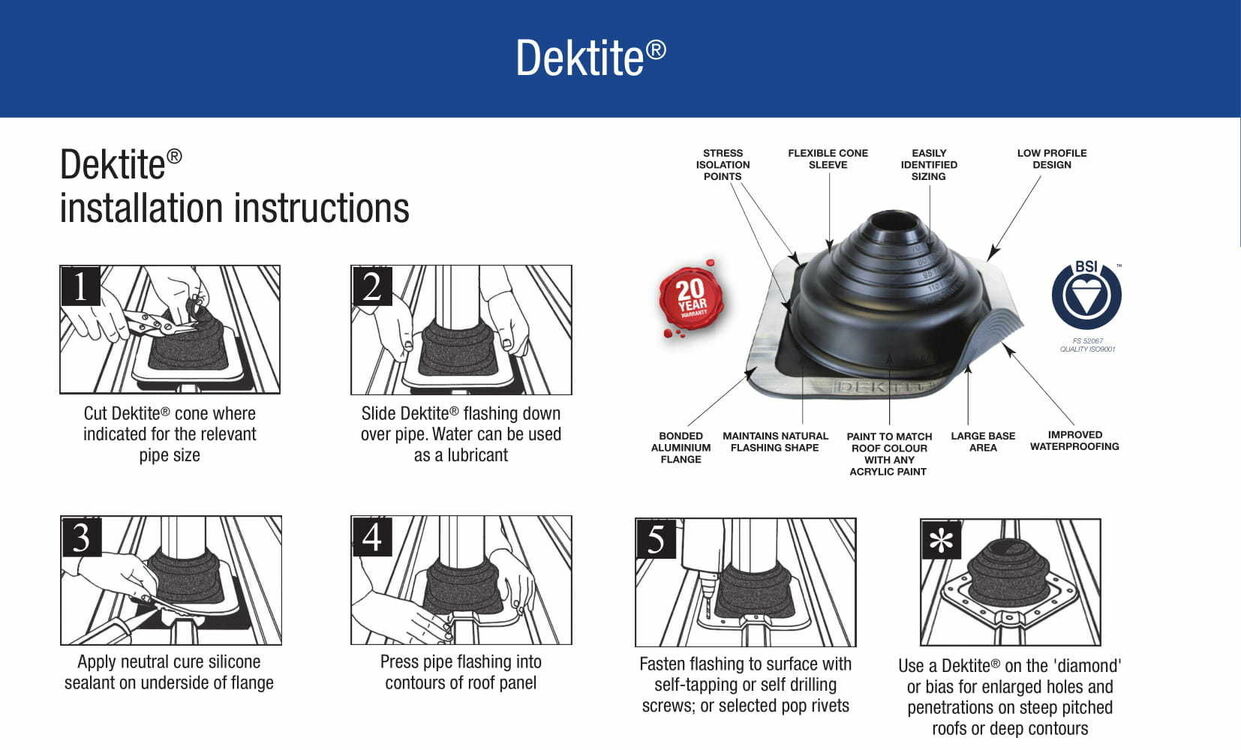 Automatic Smoke Hatch with Solid Lid
Our UL-Listed Automatic Smoke Hatches provide invaluable assistance to Firefighters by evacuating heat and smoke from a burning building. Application is suited for warehouses, manufacturing facilities, or other large industrial applications. Durable lid design provides exceptional value and performance in a variety of regions and weather conditions. Constructed of Galvanized, Stainless Steel, or Aluminum, and can be painted white or to match exterior building color.
Non-UL models are available at even more economical rates where a UL 793 rating is not required. Non-UL models feature a single lid design.
UL 793 rating - twin leaf design

Solid lid design crowned for watershed

UL fusible link opens at a preset temperature

Optional McCabe Link opens lids electronically

Inside/outside manual release handles

Gas springs deliver a controlled opening speed

Lid/latch uplift rating 30 PSF

Metal building flanges, self-flashing or curb mount

Optional high uplift / capacity models available
R&S Metal Building Roof Hatch for safe roof access via the interior fixed ladder. The integral metal building curb flashes to any Standing Seam, R-Panel, or Insulated Metal Panel roof system. As a result, there is no need for a separate curb or flashing.
Our roof hatches are 0.125″ aluminum for ultimate durability. Curbs include 1″ (R6.5) insulation, with higher R-Values also available. The perimeter rubber gasket ensures long-term protection against leaks. Gas springs with dampers deliver smooth and controlled lift assistance. Hold open arm with vinyl grip locks lid in an open position. All Metal Building Roof Hatches include interior and exterior padlocks with concealed hardware for complete security. Several options are available; for example, steel construction, custom color finish, custom size, integral OSHA-compliant safety rail, and safety post (ladder-up). Lastly, replacement parts are readily available and easy to install.
Welded contours nest with any metal roof panel

Continuous seam welds for weather-tightness

Insulated curb wall and lid for energy efficiency

Interior liner delivers a clean interior look

EPDM high-density perimeter gasket - no leaks

Hold open arm locks lid in an open position

Inside and outside manual release provisions

Padlocks and concealed hardware

High-performance gas springs for smooth operation

Optional "Loose" Caps / Closures for field location

OSHA Safety Railing available; maybe factory-fitted
Other Options: Custom Finish, Safety Post, Ladders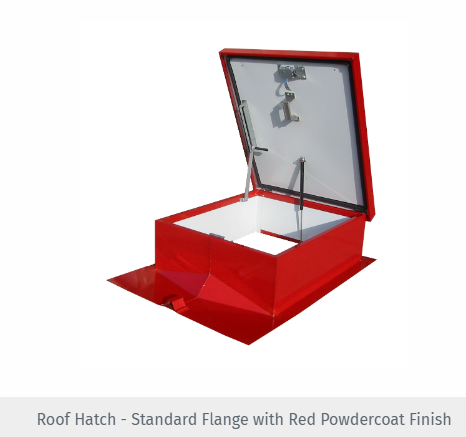 CSI Division 07-7246 Safe Rooftop Walk Products & Handrail
GrateSafe™ Walkways provide safe access to rooftop equipment while eliminating damage to roof panels from foot traffic. Attaches with S-5! Clamps that do not penetrate the standing seam roof panels. The system features 18 GA galvanized steel planks, pierced and punched for a sturdy, anti-skid surface. Planks are 12″ wide x 10′ long and interlock, so walkways can install in various widths. In addition, optional OSHA-compliant handrail and toe kick integrate seamlessly. The GrateSafe™ walkway system ships complete and is compatible with any standing seam roof. Orders include CAD drawing with support locations, roof attachments, and overall walkway layout.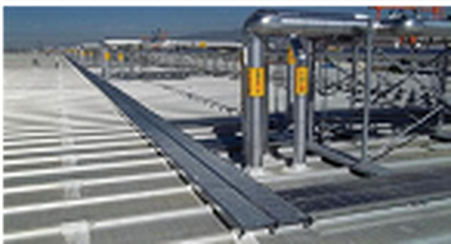 10' Planks with anti-skid surface & interlocking design

Attaches with supplied S-5! Clamps (non-penetrating)

14 GA supports, ledgers, and splice plates

Cross-overs for ridges, pipes, and other obstructions

Optional 6" high toe kick

Pitch-corrected when specified

OSHA-compliant handrail-one or both sides of the walkway

Forged iron handrail fittings, schedule 40 handrail pipe

Custom finish options are available
The concept of combining photovoltaic arrays with Butler's MR-24 roofing is growing — and for good reasons. A standing seam metal roof has a life expectancy consistent with that of framed PV modules. A 30-year power source on a 50+ year roof, along with zero-penetration technology, creates the most sustainable roof system available with alternative power generation, all without compromising the roof manufacturer's warranty!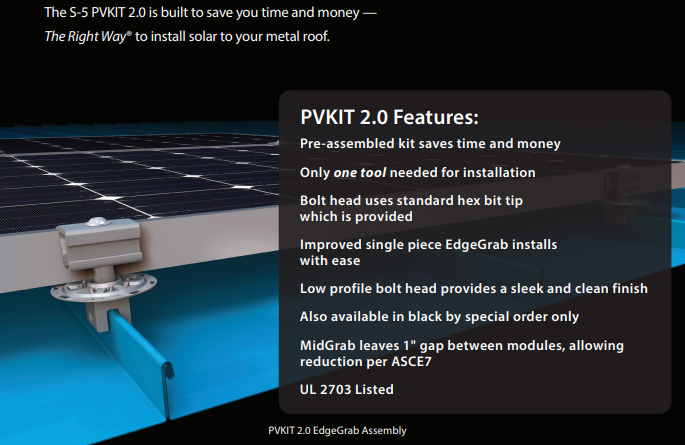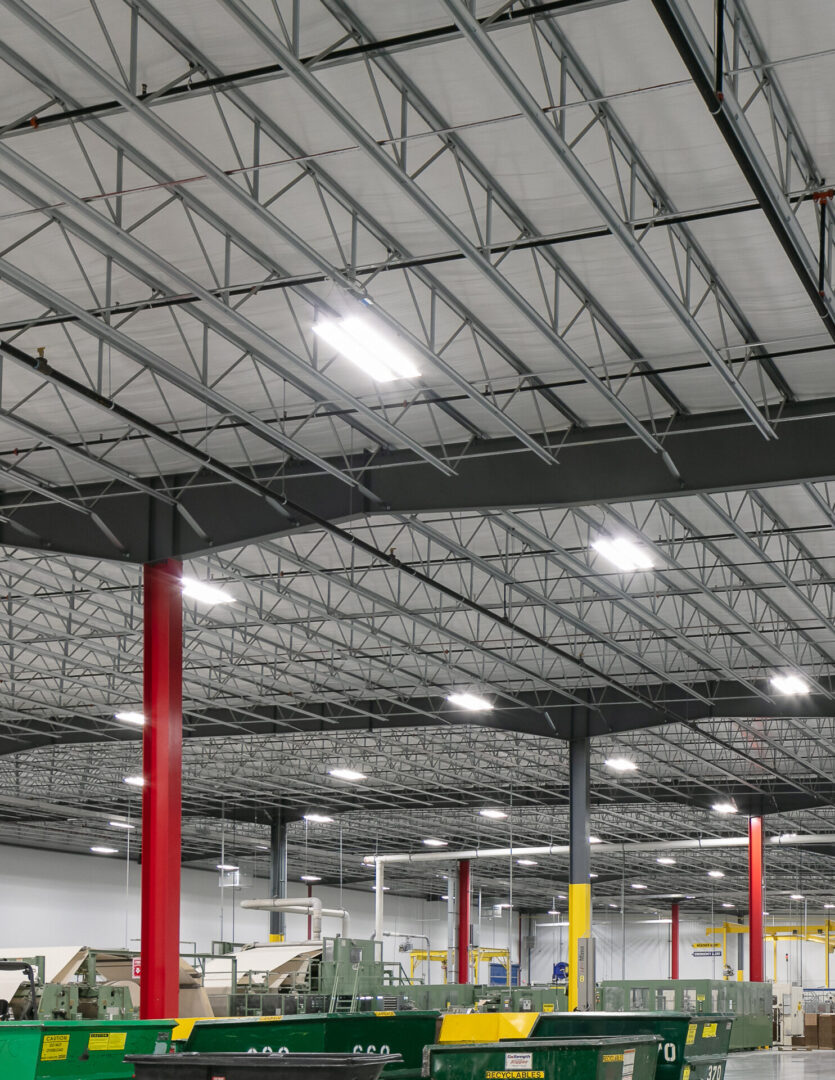 Brighten your building by increasing energy efficiency with an approved faced blanket insulation system. WMP 50 facing is available in many thicknesses and R-Values for your new Butler Building. The higher the R-Value, the better the thermal resistance occurs in your building. Butler Roof Systems include insulation options from R-19 to R-30 and up. Faced insulation also includes a water-resistant condensation vapor to protect steel from moisture. It is a highly recommended option and required for most buildings per Title 24 Energy Efficiency requirements. Many facings and options are available to meet all of your energy efficiency needs and requirements.
Brightens building interior, available in white and black, facing

Provides cost-effective energy efficiency

Vapor retardant against condensation