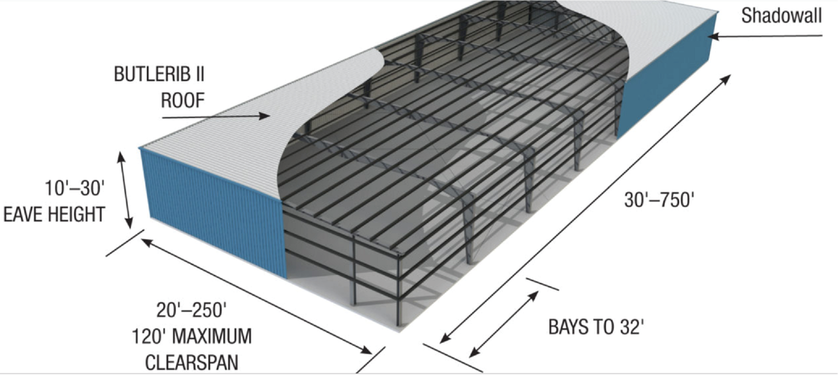 Leading Design Capabilities
We have the engineering expertise and technology to make virtually any building design a reality. Plus, our Butler PEMB building structural systems are known for their versatility.
Classic II™ Building System
Simply designed for greater affordability and faster construction, the Classic II™ building system is ideal for applications from small to large. The Classic II™ Butler building system is available in a wide variety of slopes, widths, and heights, and you may also choose from an array of accessories to enhance the functionality And appearance of your building.
Competitively priced and delivered quickly

Reliable protection provided by the industry's strongest metal panels

Unmatched performance for years of low-maintenance ownership

Butler-Cote™ finish resists chalking and fading and is backed by a 25-year warranty
Landmark™ 2000 Structural Systems
The Landmark™ 2000 structural system combines solid-web primary frames, factory-punched Truss PurlinXT™ secondary structural members, and rod bracing to form a long-bay framing system that can span up to 60 feet. The special truss purlin system (with open-web secondary structural) is a Butler exclusive commercial building structure.
Uses Truss PurlinXT to achieve up to 60-foot bays, available in 30-, 34- and 40-inch depths

Features acrylic-coated galvanized trusses, which protect from corrosion and provide an attractive interior appearance

Enhances ease of erection through factory-assembled, factory-punched structural members

Offers design flexibility for a combination of roof slopes and ridge designs

Provides an economical design solution for buildings that require wide-open interior space

Integrates with conventional wall products, such as masonry, precast concrete, site-cast tilt wall, and nonmetal curtain walls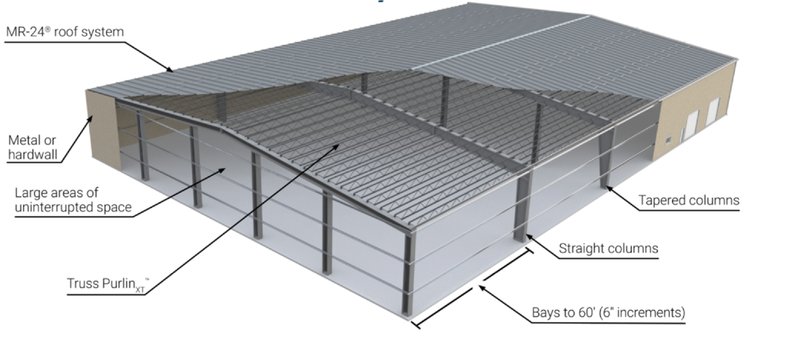 Self-Storage Building System
A Butler Self-Storage Building System delivers superior building performance and protection to maximize return on investment for self-storage business owners.
Available with climate-controlled options

Can be specified with the industry's finest standing-seam roof system — the MR-24® roof system — for weathertight protection

Multistory options are available to meet specific building needs

Faster construction gets the building owner open for business and renting units sooner

Low-maintenance building performance helps maximize return on investment

Extensive exterior finish options — including metal, concrete block, tilt-up, or brick — create an attractive appearance and meet local building codes and covenants.

Our self-storage doors are the only wind-rated doors on the market.
Widespan™ Structural System
The Widespan™ structural system combines the practicality of a rigid frame with virtually unlimited design flexibility.
The most basic and versatile of the Butler® structural systems

Easily facilitates expansions or extensions

Can accommodate most eave heights and roof slopes from ¼":12" or greater

Acrylic-coated galvanized C/Z structural members add durability, reduce maintenance and contribute to an attractive interior appearance

Can support metal, nonmetal load-bearing, or nonmetal curtain wall perimeter walls