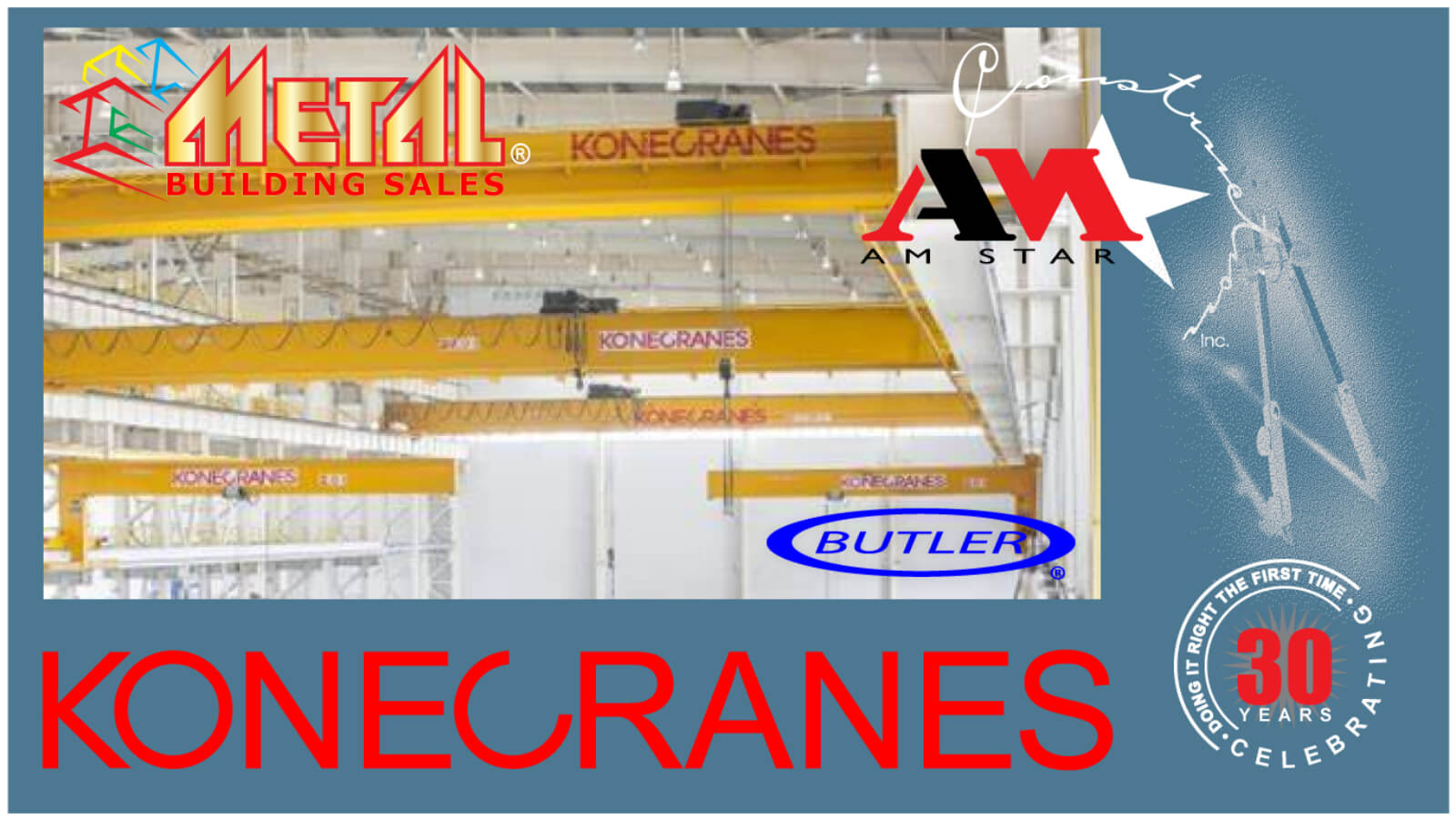 If you're looking for an overhead crane to run your heavy lifting, you have come to the right place. Butler Manufacturing and Kone Cranes have formed a strategic alliance in assisting their customers with their wall mounted overhead crane needs. A Metal Building Sales customer qualifies for our national account pricing which will reduce your building cost yet give you the lifting options for your crew. Whether you are a mechanic, manufacturer, or ship builder we got you covered. Your lifting equipment needs to be safe and efficient. No other combination works better then Butler and Kone coupled with Metal Building Sales. Let us help you design and construct the right wall mounted crane for your operation. Our cost engineer can design the runway beams and bridge needed for your building. We know how to make things happen. Bring your production to life with our plans. Contact Metal Building Sales at 408.691.6002 to discuss your building options. You deserve the best!
Konecranes has been in the lifting equipment business for decades. Our mission is the same today as it was at the beginning: deliver lifting equipment that lifts our customers' businesses. Deep industry knowledge is built into every Konecranes product. And every Konecranes product has quality at the core. We design and manufacture the key crane components in-house, to function flawlessly in the specific lifting applications of our customers' industries.
Why choose a wall mounted overhead crane? A wall mounted overhead crane is a type of crane that is mounted on the wall of a building, rather than on a freestanding structure or a ceiling. This type of crane has several advantages over other types of cranes, such as:
- It saves floor space and eliminates the need for columns or foundations that may interfere with the workflow or machinery.
- It can be easily installed on existing buildings or structures, without requiring major modifications or reinforcements.
- It can handle loads up to 10 tons and spans up to 30 feet, making it suitable for a variety of applications and industries.
- It can be operated manually or electrically, depending on the preference and needs of the user.
- It can be customized with different features and accessories, such as hoists, trolleys, hooks, slings, magnets, vacuum lifters, etc.
A wall mounted overhead crane is an ideal solution for lifting and moving materials in workshops, warehouses, factories, garages, or any other facility where space is limited or valuable. With a wall mounted overhead crane from Butler Manufacturing and Kone Cranes, you can increase your productivity, efficiency, and safety while reducing your costs and maintenance. Contact us today to find out more about our wall mounted overhead crane solutions and how we can help you achieve your lifting goals.
AUTOMOTIVE
CONTAINER HANDLING
GENERAL MANUFACTURING
INTERMODAL
METALS PRODUCTION
MINING
NUCLEAR
PAPER AND FOREST
PETROLEUM AND GAS
POWER
SHIPYARDS