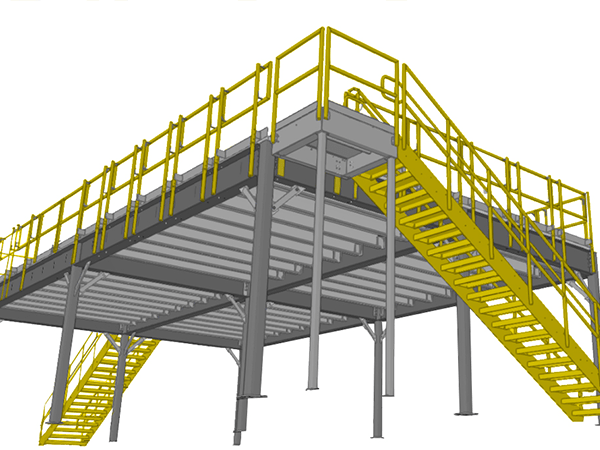 If you need more space for your storage or business needs, consider adding a second story to your building with a BUTLER® steel deck mezzanine. These mezzanines are designed to fit any new or existing metal building, and provide a durable and cost-effective solution for expanding your floor area. Whether you need a loft for extra inventory, office space, or production area, a BUTLER® steel deck mezzanine can meet your requirements and exceed your expectations.
If you are looking for a fast and efficient way to create more space in your building, you should consider the Butler Express Mezz™ System. This is a modular mezzanine system that can be customized to fit your needs and budget. You can partner with a Butler Builder, who is a trained and certified expert in installing Butler products, to design and build your Express Mezz System. Whether you need a mezzanine for offices, storage, production, or any other purpose, the Express Mezz System can provide you with the following features and benefits:
- Easy installation: The Express Mezz System does not require any welding, cutting, or drilling on site. All the parts are pre-engineered and pre-fabricated to fit together with bolts and nuts. This reduces the installation time and labor costs, as well as the potential for errors and accidents.
- Aesthetic appeal: The Express Mezz System can match the look and feel of your Butler building, as it comes in two finishes: Butler primer paint or G30 galvanized finish. You can also choose from different colors and accessories to enhance the appearance of your mezzanine.
- Built-in flexibility: The Express Mezz System can accommodate different load capacities, floor surfaces, and module sizes. You can choose from standard module sizes ranging from 8' x 8' up to 28' x 28' in 4-foot increments, and standard heights of 9' or 10' clearance from the underside of the perimeter beams. You can also select from six economical floor surface options, including ResinDek options that have pallet jack ratings up to 2800 pounds, one 4" cast-in-place concrete flooring option, and a 3/4" board option. You can speak to your Butler Builder about the best flooring option for your mezzanine.
- Freestanding design: The Express Mezz System does not rely on any existing structure or support. It is a self-supporting mezzanine that can be installed in any location within your building. You can order an Express Mezz System for an existing building or with a new building project.
The Butler Express Mezz™ System is a smart and simple solution for creating more space in your building. It is a durable, versatile, and cost-effective mezzanine system that can meet your specific needs and expectations. To learn more about the Express Mezz System and how it can benefit your business, contact your local Butler Builder today.
We also offer wood and conventional steel decks that are stand alone built for any type of building. You don't have to own a metal building to get the benefits we provide. Our wood and steel decks are engineered and installed with the same quality and professionalism as our BUTLER® steel deck mezzanines. No matter what your building structure or design is, we can help you create more space and value with our mezzanine solutions.
Metal Building Sales and AM Star construction are the experts in building and installing mezzanines. We have over 30 years of experience in the industry, and we can handle any project size and complexity. We work with you from start to finish, ensuring that your mezzanine meets your specifications and budget. We also provide excellent customer service and support throughout the process. Contact us today to find out how we can help you expand your business right. Our phone is 408.691.6002.